September 08, 2016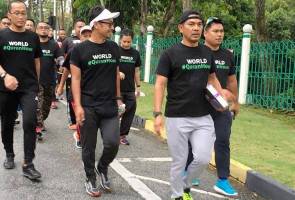 SHAH ALAM
: Early today, local celebrity actor Datuk Rosyam Nor began his mission of walking a distance of 47.2km to promote the
World
#QuranHour event this Sunday.
The 'Rumah Ngaji' icon started from the Kumpulan Karangkraf Complex in Section 15, here, at 6.30am, accompanied by a number of representatives of NGOs.
During the journey, Rosyam would stop at several locations including the Batu Tiga toll plaza in Shah Alam and Al Taqwa Mosque in Taman Tun Dr Ismail, Kuala Lumpur.
It was slated to end at Sultan Haji Ahmad Shah Mosque at the International Islamic University Malaysia (IIUM) campus in Gombak, Selangor about 4pm.
Rosyam said he was grateful that his walk plan to promote the programme of simultaneous reading of the Quran across the world, had received the support of various parties including the police and Yayasan Ummah Ikhlas.
"I wish to call upon all Muslims in this country and from the rest of the world to spend one hour from 9am (this Sunday) to read and understand the content of the Quran," he told reporters before starting his long walk.
He also hoped that reading of the Quran would become a daily practice instead of on certain days only.
The programme is a continuation of the #AktifkanRumahNgaji unitiative which started in 2013 and now has 1,000 centres across the country offering free Quran lessons, while the #MalaysiaNgaji programme was held on June 29 during last Ramadan.
Sept 11 has been chosen for the World #QuranHour event as the date coincides with 9 Zulhijjah in the Muslim calendar when Haj pilgrims converge at the Arafah plains in Makkah for wukuf (the grand assembly).
Source by: internet